Achievement Resources, LLC, honored as Minority-Owned Business of the Year
Achievement Resources, LLC, was named Minority-Owned Business of the Year by the Grand Rapids Area Chamber of Commerce during an award ceremony and dinner at Frederik Meijer Gardens and Sculpture Park on May 16. EPIC stands for Entrepreneurial, Progressive, Innovative and Collaborative.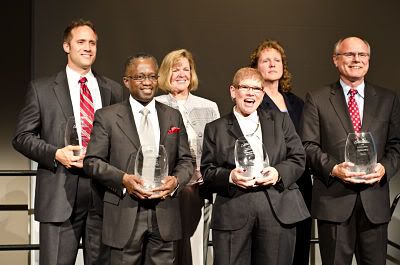 Award recipients were selected by a committee of business and community leaders for their support of the local community, demonstrating growth and stability, being innovative, and working with other businesses as mentors or collaborators.
"I'm continuously impressed by the drive and ingenuity that these businesses show on a daily basis," says Rick Baker, President and CEO of the Grand Rapids Area Chamber of Commerce. "These recipients are just a small representation of the great businesses that are leading our community into the future." This year's award recipients are: 
Excellence in Business Award: Michigan Blood  
Michigan Blood is an independent, nonprofit blood bank that provides blood for 36 hospitals across Michigan's Lower Peninsula. Recently, it has reinvented itself and with the help of a new public relations campaign and other activities the community's awareness of Michigan Blood has tripled. 
Non-Profit of the Year: YWCA West Central Michigan  
Established in 1900, the YWCA West Central Michigan is a place of hope, healing, and renewal for women and families from all walks of life. They work to provide opportunities which empower women, improve individual lives, and strengthen the community. 
Minority-Owned Business of the Year: Achievement Resources, LLC 
Achievement Resources, LLC, is a performance enhancement company built around the premise that "organizations don't get results—people do". They provide services designed to help people identify their talents, unlock their potential, and maximize their performance. 
Small Business of the Year: SecurAlarm Systems, Inc. 
SecurAlarm Systems, Inc. is one of the most recognizable security integrators in West Michigan. They push the envelope for systems integration in a way that utilizes existing infrastructure, and minimizes cost and additional work for their clients.
Woman-Owned Business of the Year: Busy Bea's Services  
Busy Bea's Services started out as a residential cleaning company in 2000. In 2004, they transitioned to 100% commercial janitorial services with a specialization in medical cleaning. Busy Bea uses equipment that provides the best environmental impact for their customer and ergonomics for their employees. 
Young Entrepreneur of the Year: Ryan Cook, Snap Fitness 
Ryan Cook opened his first Snap Fitness near Woodland Mall in 2007 after more than a year of research into the franchise company. It was a large gamble but the first location became profitable within a year of operation. He now owns five clubs in the Grand Rapids area. 
For more information about the EPIC Awards, visit www.grandrapids.org/epic-awards.